ARTISTANATOMY.COM
Human Anatomy For The Artist
MICHAEL M HENSLEY: BIOGRAPHY
Michael M Hensley: Biography (Printable PDF)

Michael Morey Hensley was born on August 6, 1962, in New Orleans, Louisiana raised in Taos, NM. His mother Carolyn B. Hensley was an educator and art director and his father Jackson M. Hensley is a highly regarded artist.

Born into an environment steeped in the arts, Michael's formal introduction into art began in his late teens. Shortly after graduating from Taos High School in Taos, New Mexico, Michael left to Woodstock, New York where he studied with Vladimir Bachinsky at the Woodstock School of Art. It was Vladimir's inspiration and enthusiasm for art that sparked a deep passion in Michael toward the great masters of the past and to the importance of draftsmanship.

Inspired by the great masters, in particular the masters of the High Renaissance, on Vladimir's recommendation, Michael at the age of eighteen left his home in Taos, NM for New York City to attend the Art Students League and the National Academy of Design. Within a month of his arrival Michael showed so much promise as a draftsman that at the request of his instructor Gustav Rehberger he was granted a full scholarship.
Passionately interested in the human figure, Michael was constantly drawing from life, when unable to draw from live models he spent all his free time studying artistic human anatomy, idealized proportion, and compositional design. These masterful drawings done in his late teens show all the struggle and determination of a young artisan learning to master his craft. The comprehensive collection of his youthful figure studies and highly detailed anatomical drawings are considered by many to be a masterpiece in their own right.

After studying for only one year, Michael was told by his instructor Gustav Rehberger that he had learned his lessons well and continuing with a formal art education would only hamper his individuality and growth as an artist and that it was time for him to follow his own path.

It was at this time that Michael returned home to help with the care of his mother who had suffered from Type 1 Diabetes for many years. Upon his return to Taos, NM, Michael's interest in philosophy and classical literature began to make its way on to the canvas.

Working on mural size canvases Michael began his pictorial Tour de Force the "Ascent" and "Descent". Using his knowledge of anatomy, Michael set out to fill these masterpieces with human figures in every conceivable position. The finished paintings were a culmination of several years work.

Michael had also begun two other large emotionally charged paintings, one a crucifixion entitled "Sangre de Cristo," which was painted as a tribute to his ailing mother and a very personal painting entitled "Prometheus Bound". Shortly after his mothers passing, Michael painted one of his most personal and moving paintings to date. The painting entitled an "Allegory of Time" was executed as a tribute to her memory.

In addition to painting and drawing Michael has also developed a large following through his instruction of artistic anatomy, fantasy art, creature design and realistic oil painting. Michael continues to reside in Taos, NM, has three children Havean, Joshua, and Zoie and two grand children Yvie, and Emma..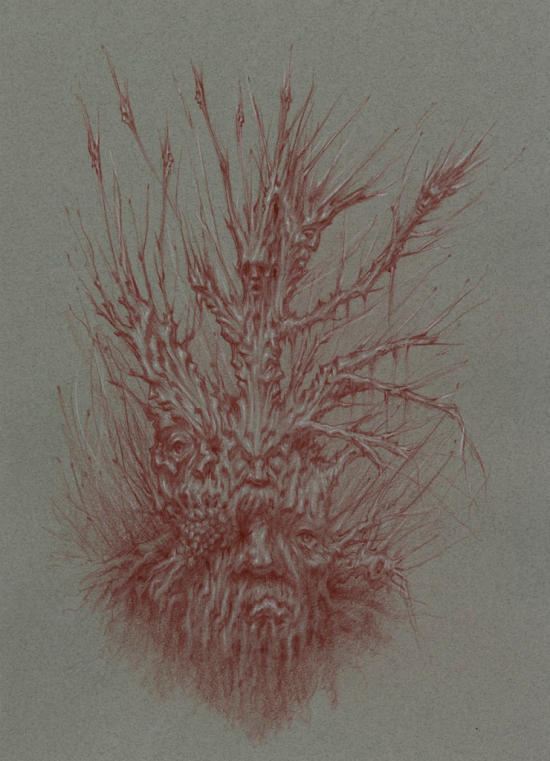 The Dark Wood," Time and Decay" by Michael M Hensley
"The basic principles of drawing are universal, creative inspiration is personal." Michael M Hensley-